Thai Long Pepper Minimum Order 100 Kg. Export

Long pepper (Piper longum, Pippali, Thai long pepper) is dried and used as a spice.
Black, green and white pepper are found and the very word 'Pepper' is derived from word 'Pippali' used in Thailand.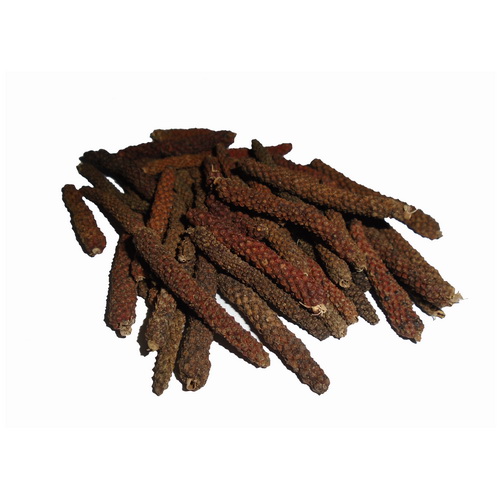 Base price for variant
67900,46 ฿
Sales price without tax
67900,46 ฿
Description
Health Benefits of Long Pepper
The first reference to long pepper comes from ancient Indian textbooks of Ayurveda,
where its medicinal and dietary uses are described in detail. It reached Greece in the sixth or fifth century BCE,
though Hippocrates discussed it as a medicament rather than a spice.
Among the Greeks and Romans and prior to the European rediscovery of the American Continents,
long pepper was an important and well-known spice.
The ancient history of black pepper is often interlinked with (and confused with) that of long pepper,
though Theophrastus distinguished the two in the first work of botany.
The Romans knew of both and often referred to either as just piper;
Pliny erroneously believed dried black pepper and long pepper came from the same plant.
Round, or black pepper, began to compete with long pepper in Europe from the twelfth century and had displaced it by the fourteenth.
The quest for cheaper and more dependable sources of black pepper fueled the Age of Discoveries;
only after the discovery of the American Continents and of chili pepper, called by the Spanish pimiento,
employing their word for long pepper, did the popularity of long pepper fade away.[6] Chili peppers, some of which,
when dried, are similar in shape and taste to long pepper, were easier to grow in a variety of locations more convenient to Europe.
Today, long pepper is a rarity in general commerce.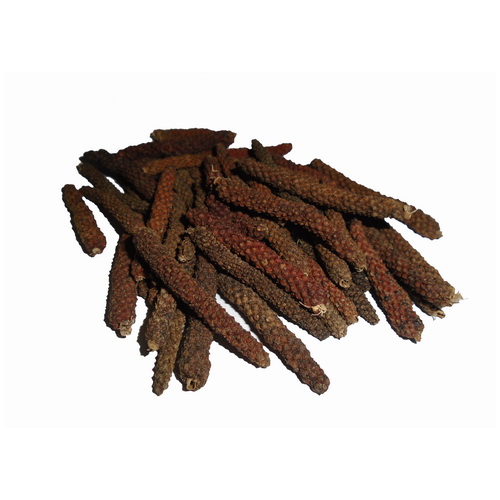 Health Benefits of Long Pepper
Long Pepper promotes growth of intelligence.
They are used to cure wet cough, asthma, excess water in abdomen or body,
skin diseases, diabetes, piles, stomach ache, indigestion, constipation, anemia etc by direct usage or by mixing with other ingredients.
Recent researches have proved that Long Pepper can help cure Bronchial Asthma effectively.
wikipedia.org
Units in box: 10
Reviews
There are yet no reviews for this product.